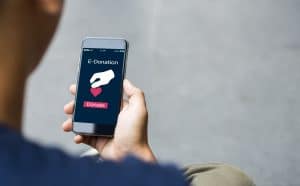 At one time, business or non-profit entities had a physical store front that acted as the face of their business. Now, this inviting façade is online, and is discovered when someone does an online search for a non-profit in their community. This means your website should not only be modern and inviting, but designed with SEO in mind to ensure better rankings on Google and a wider reach. At MDPM Dental Marketing, we know how to design and create a custom site for a non-profit, and we know the benefits they have over template options.
Custom vs. Template
Whether you're on YouTube or streaming your favorite show, you've probably seen commercials for businesses that promise to make the creation's sleek and clean design simple and easy, even if you have no experience designing and building one. They can make this promise because they're offering a template site, one with a limited number of functions and looks. While yes, they do offer a very affordable price, they also have a number of downsides.
First, you won't be the only one using this template, so you're likely to have a website that looks very similar to others. For a non-profit eager to attract volunteers and donors, blending in is not the way to go. In addition, these templates rarely offer much in Search Engine Optimization (SEO). SEO allows your site to meet industry standards and best practices, with rich and original content that popular search engines like Google, Bing, and Yahoo prefer. With a solid SEO strategy, which includes a custom website and engaging content, you're more likely to see users looking for services and missions similar to yours directed to your homepage.
A Fully Responsive Design
A good user experience (UX) is crucial. How long will you spend on a website that is hard to navigate, especially when you're looking on a smartphone or a tablet? Studies show the answer is three to five seconds on average, which means you must make a good first impression! With our custom options, we offer a fully responsive design. This means your homepage is going to look good, and key information will be simple to find on every platform from a smartphone and tablet to laptop and desktop. To accomplish this, we essentially build several versions of your site to fit various screen sizes. Not only does this make for optimal UX, but also helps with Search Engine Optimization, as Google and other search engines place priority on those that are more mobile-friendly and responsive to multiple screen sizes.
Organic SEO
Some templates may offer basic information on Search Engine Optimization and provide a few tips, but we have technicians that keep up-to-date with the latest trends and algorithm changes. We have also practiced a content-first approach, as most tweaks to Google's algorithms are based on discovering and highlighting original and well-written content on regularly-updated pages. We incorporate SEO-rich keywords and links, and can offer new content with blog posts written by our team of talented copywriters. We can keep people updated about your mission, upcoming events, and more! Much of this content could potentially be used by news media in write-ups and features, so we will ensure accuracy and quality!
By offering this right out of the gate, your SEO will be strong, even when search engines like Google, Bing, and Yahoo change their approach to crawling, indexing, and organizing content for a Search Engine Results Page (SERP). We start with our responsive design, but we also incorporate key information in the backend. This local schema is then pulled to create results when people search for companies similar to yours. Potential volunteers, clients, and donors then have an easy time finding your company, location, contact information, and even basic details about your mission.
Our team also wants to make sure your custom site loads quickly. Nothing turns away a visitor quite like slow loading times, so we optimize images, employ Google's Pagespeed Insights Tool, use multiple methods of caching information, and implement Accelerated Mobile Pages (AMP) to help ensure everything loads quickly without sacrificing quality. These actions also help ensure you meet all web content accessibility guidelines.
Social Media and Reputation Management
Right now, many non-profits find themselves struggling to hold onto donors and meet their goals, as fundraising events and outreach activities have been suspended due to the threat of COVID-19. One way to continue to stay engaged with your supporters, and maintain a connection with volunteers, clients, and donors until you can resume regular activities, is with social media. Not only does our team create and help manage pages on Facebook, Twitter, Instagram, Yelp, and Google My Business, but we integrate them into your homepage. People can easily click away to your social media accounts, add and follow you, and then receive regular updates about what you're up to, in addition to future events, and more. We also add reviews to your homepage and help create content to encourage people to leave their thoughts about your company and everything you do for the community. We also integrate map platforms so people can find directions easily, as well as Google Analytics and Search Console/Webmaster Tools. Your non-profit will also own every aspect of your new site and your social media pages, even if you decide to suspend your marketing services or take your business elsewhere, we make the process of moving as simple as possible.
MDPM Dental Marketing Can Create A Custom Website  
When people drop in on your homepage, they should gain an immediate understanding of your mission and your business. At MDPM Dental Marketing, each member of our team will work with you, from the design and build process to creating copy and integrating social media, to ensure a sleek, inviting user experience. To start the process of creating your own unique content and website, please call MDPM Dental Marketing today at 972-781-8861. We want to make sure you put your best face forward online, and that even in these trying times, your company has a chance to grow and attract new patients!