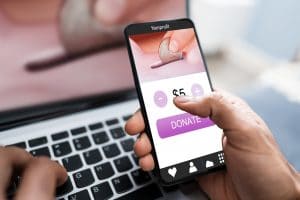 Businesses of all types, even not-for-profits, need an online marketing strategy to help attract new clients and customers, as well as donors and volunteers. A successful plan, one that improves search engine optimization (SEO) and helps grow your venture, often begins with a custom website. At MDPM Dental Marketing, we know how to create a custom site that serves a nonprofit's mission and fits within their budget. We also know that this option offers a host of benefits over templated versions. But what goes into the design and creation of your custom nonprofit website?
What Makes a Nonprofit Site Different?
A not-for-profit isn't selling a product, but a service to the community and those in need. You have a mission, and to accomplish this and make a difference in your area, you need to have volunteers willing to work with you, clients to serve, and donors and investors to make day-to-day operations possible. Additionally, you need a website that stands out and lets people know you're a professional organization and one worth investing their time and money in. Often, companies offering templated sites point out how affordable their products are. While yes, a templated site is quite cheap, it also tends to have limited functionality and visuals, doing very little in regards to search engine optimization. This is why a custom nonprofit website is essential. Users want a professional-looking homepage and a website that offers optimal User Experience (UX).
We provide SEO-rich content, which helps your not-for-profit land higher on search engine results pages (SERPs) when people look for organizations like yours in their community. We understand what makes you different, and we know that you need to appeal to multiple audiences to accomplish your mission. Working together, we can create content that reflects your organization's goals and philosophy while also reaching the audiences you need.
The Interview and Design Comps
The process starts with an initial interview, in which we will sit down with you to talk about your nonprofit and what you bring to your community. We're also going to talk about homepages and web content you like, color schemes, and other factors you want to incorporate into your final design. If you have a logo, we can add this to your site, if not, our designers can work with you to create one that is modern, clean, and eye-catching!
Following the interview, we will begin creating comps employing your assets, such as office photos, headshots, and images from your fundraisers, events, and activities. We will even design a member portal to keep your members interconnected. Your homepage is the first impression many people will have of your organization. It will have a major impact on your ability to attract donors, clients, and volunteers! You must strike a balance to ensure your final product appeals to clients and investors alike. This is often a difficult feat to achieve, but we have experience and know how to create an engaging and professional online presence. You should never settle on a design you're unhappy with, which is why our team goes through rounds of edits with you and maintains consistent communication throughout the design process.
Approval and Build
Once the rounds of edits and revisions have wrapped up and you're completely satisfied with the final product, we will begin building your new custom website. First, we start gathering files and materials, including updated images of your office and team members to integrate into the final design. Our team will make sure the final appearance is correct, and we will perform a thorough quality check to ensure no mistakes are in the design and copy. Once everything is in order, we will move the site off our testing server and go live, debuting your new homepage to the world! We'll be available for tech support and any questions or concerns you may have, and can also create blogs and other content to add and improve search engine optimization. We will integrate map platforms, social media links, and make sure your final product is responsive. A responsive one is mobile-friendly and able to be easily viewed on screens of multiple sizes, from smartphones and tablets to laptops and desktops. We also add local schema to the backend, which is the information search engines like Google, Bing, and Yahoo pull to build your results on a SERP. Creating your new one with SEO in mind helps ensure your organization is easily discovered. We want to help your not-for-profit grow and thrive by putting your best face forward online.
Should I Start This Process Now?
Simple answer? Yes. Right now, your not-for-profit could be in a difficult position. After all, organizations like yours depend on fundraisers and events to raise awareness, as well as donor dollars and volunteers. With restrictions on gatherings and other health and safety measures put in place following the COVID-19 pandemic, these activities are essentially impossible, even in states that are "open for business." However, an online marketing plan, which begins with a custom website, can help you gain better SEO in the meantime, so when you can truly open and begin helping your community in earnest once more, you have a solid search engine optimization strategy to help you grow and attract new donors and volunteers! If you have any questions about our services, or if you would like to get started and schedule your initial interview, then please contact MDPM Marketing for nonprofits today. We're ready to talk to you about options that fit your mission and your budget.
MDPM Marketing for Nonprofits Talks About Online Marketing 
We know that a custom website is a great start for a successful online marketing strategy, helping businesses and even not-for-profits grow and thrive. At MDPM Marketing for nonprofits, we understand how to create web content and more to help address your unique needs. To learn more about creating an SEO-rich nonprofit content, please call MDPM Marketing for nonprofits today at 214-531-3006. Starting your SEO and online marketing plan now helps lay the groundwork once your doors can open and you can once again schedule events and fundraising opportunities.