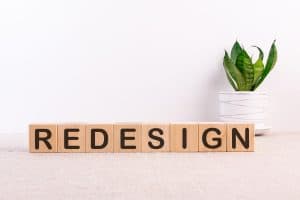 People often avoid updating their website for a number of reasons, such as fear that major changes could interfere with search engine optimization (SEO) efforts, or simply not knowing where to even start with an update. However, since your webpage designs and layouts are often outdated after just three years, letting your website grow older and older could harm SEO and have a negative impact on how potential supporters view your nonprofit. Fortunately, MDPM Marketing for Nonprofits offers redesign options that ensure your website keeps up with the latest design trends and communicates more clearly with search engines like Google, thus boosting SEO. Has the time come for a redesign? Learn more in today's blog!
Has the Time Come for an Update?
First, how long has it been since your current website was built and went live? Three years? Four? Five or more? The world of web design moves fast, and what was groundbreaking just three years ago is not only outdated but could stand in the way of your attempts to improve search engine optimization and reach a wider audience online. For example, older sites tend to load slower, which not only causes sites to fall in rankings but could also frustrate potential users. By trying to keep your outdated, shambling pages on the web, you could inadvertently harm your ability to reach people digitally. Who is going to feel comfortable sending money to a not-for-profit that can't be bothered to put minimal effort into vital web content?
Preserving (and Improving) Your SEO Efforts
First, our team understands what search engines like Google, Bing, and Yahoo are looking for when they rank websites. When we update your old site, we will optimize content with SEO-rich keywords, local schema, links, and also make sure your current links and internal pages all load correctly so that no dead pages or 404 errors occur to inconvenience and frustrate potential donors or volunteers trying to learn more about your mission. We ensure your aesthetics look great on a variety of screen sizes and that everything loads quickly.
How do updated webpages help your not-for-profit? Well, they help broaden your reach by improving search engine optimization. You then enjoy a cost-effective way to reach more people who could benefit from your mission or support it. You're attractive, modern design could inspire people to support your program with money or by attending events, or simply sharing information on social media. When we improve and boost your content, we can include forms for people to enter information so you can create a database to better solicit donations and spread the word about events to interested parties.
You also reach advocates and volunteers, making it easier for them to promote you and share information across social media and to their friends. Finally, a website is an excellent way to communicate your story in a visual and emotional way, winning the hearts and minds of donors and supporters, and improving your ability to earn donations and provide better content for media outlets to use if your organization is featured in a news story or article. All this is possible with a beautiful redesign that improves layouts and includes updated images to better share your story!
When to Consider a Brand-New Nonprofit Website
Now we've talked about when to make significant changes to your current homepage and internal pages, but what if your site is far older then three years? What if you don't have responsive pages and your aesthetics are simply beyond an online facelift? In this scenario, you may need a brand-new site built from the ground up. Our team is more than prepared to help you create a brand-new website to better tell your story and showcase your not-for-profit's mission in the best possible light. We will work with you throughout the entire process, and you will sign off on each step to ensure the finished product not only looks great but that it also matches your philosophy.
The Benefits of Mobile-First
When people look for something online, whether a local restaurant or even a local nonprofit, they likely do so on a smartphone or tablet. Since more and more people use these as their primary means of looking online, you need pages and online content that look great and are easy to navigate on a variety of devices. Otherwise, you run the risk of losing people in a matter of seconds. After all, how long do you stay on a site on your phone when it isn't optimized for mobile screen sizes?
When we update or build a new site, we create several different versions, each with a layout and organized content meant specifically for each screen size. We make them from top to bottom for smartphones, tablets, laptops, and even wide-screen desktops. As a result, you're more than just responsive, your site is mobile-friendly and can be easily enjoyed on a variety of screen sizes without difficulty!
Mobile-First Indexing and SEO
The reason we insist on taking this approach is due to the fact that Google practices mobile-first indexing, which means they index and give priority to content that is optimized for use on mobile devices. If you are responsive and mobile-friendly, you run the risk of falling in rankings on a search engine results page (SERP). Since people rarely look beyond the first few results on page one, losing your position could be detrimental to your digital outreach. Fortunately, we're ready to help you avoid these scenarios and instead enjoy better rankings with time! If you have any questions about our approach to redesign, or about how we help not-for-profits with their online marketing, then please contact MDPM Marketing for Nonprofits today!
MDPM Marketing for Nonprofits Is Ready for Your Redesign
Fast, modern-looking webpages with SEO-rich content is crucial for ensuring a professional appearance and also attracting new volunteers, donors, and investors, which is vital for the survival of a not-for-profit. At MDPM Marketing for Nonprofits, our team knows how to approach a redesign that helps improve overall aesthetics and function, while also showcasing your mission in the best possible light. To learn more about the importance of keeping your web presence updated and functional, please call MDPM Marketing for Nonprofits today at 214-531-3006. Making sure your web presence (and web pages) reflect the latest in design aesthetics, function, and search engine optimization means improving your ability to be discovered digitally and for spreading the word about events and fundraising opportunities. We're happy to help you reach these goals, so give us a call today.