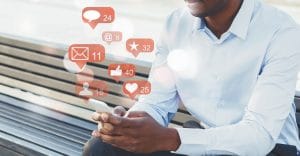 As a nonprofit, you have an important mission to help those in your community and often around the world, and due to the uncertainty and severe problems facing our country today, this means your services are needed now more than ever. This is why an online marketing plan that increases your visibility to those who benefit from your mission is incredibly valuable. In today's blog, MDPM Marketing for Nonprofits is looking at how social media reviews help your online reputation and improve views for your webpages. We're going to explain how to build up an active social media presence that encourages reviews as well as help bring new eyes to your not-for-profit website and social media pages.
The Benefits of Reviews on Social Networks
We have a unique ability these days to really scrutinize any kind of business or product before we visit or purchase. You don't go to a restaurant without looking at what others are saying, and the same goes for not-for-profits too. People will look on social networks like Facebook to see if others have truly benefited from your services and if you're a worthy organization to donate their time and money to. In addition, testimonials are an excellent way to improve search engine optimization (SEO), allowing you to land higher on a search engine results page (SERP) when people search for organizations like yours online. However, to encourage them, you need to have a solid brand and a professional face online, and that is something our team knows how to provide!
Ensuring Consistency Between Websites and Facebook
First, you want to make sure there is consistency between your social pages, webpages, and GMB listing. The key to a good brand is consistency! Make sure all of your phone numbers, hours of operation, physical address, images, and other key details are the same across your platforms. Make sure any changes to hours during the holidays are reflected on these pages too. Consistency not only ensures potential donors or investors are not confused and likely to turn to another similar organization, but it is also beneficial for SEO as well. To help create traffic, we want to create a steady stream of new content to your website that you can then share on your Facebook, Twitter, and Instagram accounts. We often create blogs based on specific keywords and services, so when people look for these, they may be more likely to discover your organization. Encouraging people to leave their experiences and testimonials means that when people discover your Facebook page and website, they find plenty of good things being said about what your company has accomplished, and strives to accomplish, in your community.
The Value of Your Brand
A brand helps ensure your organization looks professional and helps media and interested parties easily find relevant information about your business, the kind of information you want them to find! To help, we will create a logo that is eye-catching and original, and make sure that your social pages and website have the same logo, images, color scheme, taglines, and more so there is no confusion that these pages represent you. We make sure any content shared on your Facebook, Twitter, and Instagram contains striking visuals, and we also incorporate metadata in the backend of each blog post that not only helps SEO but lets people know at a glance exactly what content is on that page, making them more likely to click and learn more about you.
Targeting Your Audience
A major reason for branding and active social media presence is to ensure that you attract your target audience. For success, you want people who need your services to find you with ease when searching online, and you also need the same for donors, volunteers, and investors. You also want to make sure the information they find expresses your mission in the best light while letting them know what they can expect from working with you. We create and curate custom content to ensure you reach this audience, encouraging them to find and leave reviews to help your reputation online and allow your mission to succeed as your nonprofit grows. Along with custom posts and blogs, we also incorporate crucial SEO-rich keywords and internal links into your webpages so your website and social platforms work in tandem to drive traffic to each other, improve SEO, gain organic testimonials, and will you the opportunity to make a difference!
Responding to Reviews
The question that haunts many organizations: do I respond to them? Since social media is a way to foster communication and interaction between you and others, it makes sense to respond. A simple "Thank you" or "Happy to help" for a positive testimonial is good. If one is negative, again, respond politely, offering to help address their concern. Our team is experienced in navigating the often-confusing and time-consuming world of social networking, so we can handle these tasks for you so you stay focused on the mission at hand: helping your community. If you have any questions about encouraging reviews online or maintaining an active social media presence to drive traffic to your site and help your not-for-profit grow, then please contact our team. We look forward to working with you!
MDPM Marketing for Nonprofits Helps Strengthen Your Online Presence
Having a consistent brand across your social networking accounts and your website informs your volunteers, donors, and investors that you're professional while helping to encourage testimonials. At MDPM Marketing for Nonprofits, we know how to help not-for-profits make the most of their online presence, and continue to find support for their organization. To learn more about the importance of an active online presence, please call MDPM Marketing for Nonprofits today at 214-531-3006. We know that not-for-profits provide valuable services, but that they also operate on razor-thin margins. We want to help create a marketing strategy that fits within your budget and helps showcase your strengths and value to the community at large.