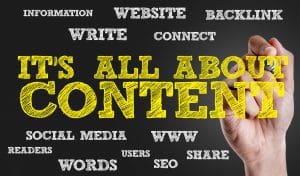 When you Google (or Bing or Yahoo) a business or a nonprofit in your community, the results show up on a search engine results page, or a SERP. Odds are, most people will find what they're looking for on the first page, and usually, within the first two or three results. MDPM Marketing for Nonprofits uses search engine optimization (SEO) to help our clients land on this first page, and eventually, reach one of the top spots. To accomplish this and to help them maintain these positions, we practice organic SEO using a content-focused approach. In today's blog, we're going to look at how we create content that appeals to popular search engines, and in turn, causes them to direct more people to your not-for-profit website!
Outdated Approaches to Search Engine Optimization
Google and other popular search engines like Bing and Yahoo want to help direct users to the most relevant results possible. After all, that's what keeps people coming back to them. At one time, Google and others used algorithms that sought out keywords and internal links to identify good sources of information related to a query and directed people there. Quickly, however, less-than-reputable companies offered services that stuffed website copy with keywords and links, creating poorly written text that allowed their clients to rise in rankings, albeit very temporarily.
However, in the past several years algorithms have been modified to seek better information and sites, weeding out keyword stuffing, poor link strategies, and stolen or duplicated copy. When you search for an easy way to gain a better SERP position, you're more likely to lose your spot. AT MDPM Marketing for Nonprofits, we understand that as algorithms and online trends shift, the one mainstay is the focus on quality content. We want to make copy websites that offer valuable information about your organization to people and also make your site attractive to search engines. This strategy allows us to always keep up with changing trends and prevents our clients from relying on outdated SEO techniques.
Creating Improved Copy
First, let's take a look at our approach to the text on your pages. During your initial interview, we will gather the information that will be used by our team members, including our copywriters, to create text and designs tailored specifically to your not-for-profit and showcases your strength. This text will also be original, duplicate-free, and incorporate the SEO-rich organic keywords and links that actually help a site in the long-term. We also want the text to appeal to people interested in your mission, whether that means receiving your services or helping support your mission with time and money. Your homepage is the world's first impression of you in most cases, so we want to make sure it's a good one.
Improving Your Website's Function and Loading Speeds
Copy isn't the only factor in where you land on a SERP. Google, Bing, and Yahoo also take the loading speeds and functions of your website into account as well. Why would they direct a user to an outdated homepage that takes forever to load or may not be accessible on a smartphone? For example, Google takes a mobile-first approach, giving priority to sites designed to be easily viewed and navigated on screens of all sizes. When we design and build your site, we create several versions to ensure there is one for every screen size. We don't want you to frustrate potential clients or donors and turn away potential interest because your pages are hard to view! Our team also lightens images and takes other steps to ensure your pages load quickly. The overall design will also reflect modern trends and we often help our clients with redesigns every three years or so to ensure they continue to reflect the latest aesthetic trends in the world of online marketing. After all, a slow and outdated website may make potential clients or donors question your organization's ability to embrace modern technologies and techniques for helping the community.
The Benefits of Local Schema and Metadata
To help improve your ability to be discovered and hopefully gain visitors to your webpages, we incorporate local schema and metadata. Local schema is added to the backend of your website and is the information that is pulled to create a map or SERP listing, consisting of your name, address, phone numbers, URL, images, and other relevant contact information. The metadata is added to the backend of each page and includes a title about the page's content with a brief description. This helps people know exactly what they will find on this page and creates more content to be discovered when they search for specific services and not-for-profits in their community.
Engaging Your Audience
Google and others also look at how long people stay on your page and if they engage with you on social media. To keep people on your pages, we will create unique text and aesthetics that speak to your audience! We want to know exactly who your tailoring your organization's mission so that your design and copy reflects this and speaks to them. We then take steps to ensure better user experience and offer a steady stream of new blogs and posts to not only keep the interest of people online but to also improve SEO as well. If you have any questions about how we help not-for-profits obtain a customized marketing plan that helps their mission and fits within their budget, then please contact our team today.
MDPM Marketing for Nonprofits Creates Engaging (and SEO-Rich) Content  
To help attract the volunteers, donors, and investors that support your organization's mission, you need an active presence online and the ability to be easily discovered with a simple Google search. At MDPM Marketing for Nonprofits, our team knows how to use a content-based approach to search engine optimization to help your not-for-profit grow so you can continue assisting your community. To learn more about our approach to online marketing, please call MDPM Marketing for Nonprofits today at 214-531-3006. As restrictions begin to cut back across the country, the opportunity to get together with people and host events that help support your mission is becoming possible again. We want to help you put your best face forward online so your not-for-profit continues to succeed in its ongoing mission to help people in your community.