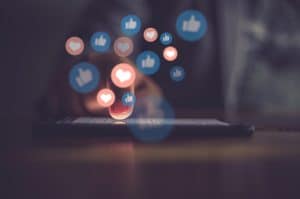 Right now, nonprofits across the world are facing a difficult problem: Despite being needed more than ever, staying open and operational is more difficult due to the pandemic. Being able to receive funding from government programs as well as private donors and investors means letting people know what your mission is and showing them that you're a professional and well-organized group. Fortunately, MDPM Marketing for Nonprofits knows that there is one way to accomplish this that also allows you to engage with people online and improve overall search engine optimization (SEO) too! In today's blog, we're talking about why you need a solid social media strategy, and we can help.
Boosting Your SEO with Social Media
When someone searches for an organization with missions similar to yours, you want to be one of the first listings on a search engine results page (SERP). To achieve this, you need content that appeals to the algorithms of search engines like Google, Bing, and Yahoo. Along with factors like mobile-friendly and responsive web design, copy optimized with SEO-rich keywords, links, and local schema, you also need an active social media presence. When Google and others see you sharing content that gains lots of likes, comments, and shares, and that you respond quickly to questions or concerns, this shows them you're engaging with people online and are a reputable source. They may be more likely to direct users to your website, and hopefully, that then translates into continued support for your not-for-profit.
Managing and Editing Your Pages
If you have current social media pages already, we can help update them to ensure your aesthetics and images match those of your organization's website. We're always available to help manage them, offering assistance in responding to comments and reviews as necessary, making changes to operating hours, setting up event pages, and more. We also create custom banners and cover photos for your Facebook, Twitter, Instagram, and even for Google My Business (GMB), LinkedIn, and Yelp. Our team knows how to ensure your pages are not only active but that they share content that grabs a reader's attention, even among a feed filled with other posts and updates. We add eye-catching images and create unique statuses that encourage people to click and visit your blog and webpages. We want content that shows you in the best light, even if people are just skimming what you share!
Our Social Media Kit
Our team is also experienced in creating new and relevant content for our clients., For example, for our dental clients, we offer a social media kit, which includes 15 unique posts to share over the course of a month, with a new one arriving every month. They can be scheduled at all once to post on different days, or posted as you go. They're meant to be used on multiple platforms, including Facebook, Twitter, and Instagram, and the statues can be changed and altered to better fit each client. The kit is free for those carrying a monthly SEO package, and just $99 a month otherwise.
For our not-for-profit clients, we can discuss creating engaging content to be shared across multiple platforms. Along with important updates about your organization or fundraisers, you can also share important news related to your mission, fun jokes, and quotes, and posts related to upcoming holidays too. The goal is engagement, forming a connection with your supporters and investors that also boosts SEO in the process!
Reaching Your Audience
As a not-for-profit, you have a wide and varied audience to speak to. You need to show potential donors and investors that you have the resources and know-how to bring about real change in your community. They need to see an active and professional organization, with a sleek modern website and growing social media outreach. You need to reach volunteers who may want to offer their time and assistance, and you also want the attention of the media, as sharing information online or being featured on a news segment can bring more support. Finally, you also need to reach out to those who benefit most from your organization's mission, so you can help them.
That's a lot to consider, but you need to consider it to ensure what you create and share across your social networking platforms reaches these groups and lets them know exactly what you're bringing to the table. Our team knows how to do this. We've helped dental, small business and even nonprofit clients big and small better engage online with people, and grow as a result. We know how to target everything from blogs and website copy to fun statuses and other content to the audience you need to reach. We're ready to walk you through this whole process, so even when your physical doors must be closed, and even if your big public fundraisers must be put on hold, your organization continues to stay alive and your mission continues to be at hand, helping those who need it most. If you have any questions or concerns about our approach to social media and SEO for not-for-profit businesses, then please contact our team today. We would be happy to discuss your company and what you may need to make a difference. Our team can even help connect you to valuable resources. Don't worry, we also know how to create a successful plan that fits within your budget!
MDPM Marketing for Nonprofits Understands the Benefits of Social Networking
We know that being active online and across multiple social media platforms can help attract donors, volunteers, and even investors. At MDPM Marketing for Nonprofits, we have the knowledge and experience necessary to properly manage your content online. To learn more about our approach to social media, please call MDPM Marketing for Nonprofits today at 214-531-3006. We know there is a lot of uncertainty at the moment, but being able to engage with people online through popular social networking platforms can help you spread the word about your mission and continue to help your community.