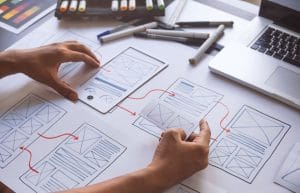 It can be incredibly difficult to break into the not for profit realm, especially if the organization itself has difficulty maintaining recognition. The goal and content may be top-quality, but the fact of the matter is that it can only go so far if viewers and donors are not brought in. Unlike large companies that profit from their services and have the funds to ensure their visibility, smaller organizations such as yours may, in fact, have difficulties promoting their mission due to a lack of online traffic or visibility. Fortunately, the team at MDPM Marketing for Nonprofits in Dallas, TX recognizes that each organization has its own unique needs, but that a major key to gaining views and garnering attention online is by having a user-friendly custom website.
Organic SEO
A major contributor to where your website lands on a search engine results page (SERP) is if it is search engine optimized (SEO) to begin with. Search Engine Optimization is the process of not only improving the quantity of web traffic to a specific listing but improving the quality as well so that individuals making a search receive results that closely match their queries. Factors such as location, products or services, mission, target populations served, and so on contribute to how you show up on a SERP.
Many independent companies advertise that they can create a website to suit your needs in a simple and efficient manner. While this may appear to be the case, in reality, template-based sites are the result. This ends up being detrimental to your purpose, as there is not much design that sets you apart from your competitors or other organizations. Further, because templates are being used, user-accessibility may not be kept in mind. User accessibility and mobile-friendliness are necessary to address when building a website, as they affect how the ages will appear on different devices. A page may look presentable and user-friendly on a desktop computer, however, this might not be the case for other devices, making it difficult to traverse and cost you web visits for poor functionality. In fact, search engines such as Google, Bing, Yahoo, and more actually penalize sites for having too-similar of a layout and is not user-friendly, pushing you down in page ranks as a result.
When you reach out to MDPM Marketing for Nonprofits, our team works closely with you to create a custom design that not only satisfies your needs and accurately displays any and all relevant information to your organization and mission, but is created with SEO in mind to help you rise higher in the page ranks when people search for entities similar to yours and, hopefully, increases your visibility and web traffic as well. We build your pages at different sizes in order to accommodate all screen capacities, from desktop and laptop computers to tablets and smartphones. Contact our team to learn how we can help you.
What Metadata Does for You
Where SEO benefits your nonprofit by appealing to the factors Google's bots consider, metadata does the same for your target audience. In other words, metadata is the small snippet that you view when making a search. It consists of a meta title that is meant to get the topic across and a meta description that is limited to 160 characters. In this description, your organization's name, location, contact information, and purpose of the page should all be included. This can become difficult given the strict parameters involved, meaning that the process can be considered more of an art than a science and takes careful and concise consideration. When we are creating your design, we include strategically crafted metadata in the backend of the website so that the important and appropriate information is displayed on a SERP.
Increasing Your Clicks by Landing Higher on a SERP
SEO coupled with excellent metadata creates the perfect combination of appeal for both search engine bots and people conducting the search. With all of this in mind, why do companies not just stuff content with keywords to make them rise higher on a search engine results page? The answer is actually quite simple – doing so gets penalized as well.
Attempting to outwit the code and bots in place that ranks your design based on applicability can also penalize its placement if there are too many of the same words in a given page or piece of content. This is known as keyword stuffing, and once certain words appear once too often, Google's bots flag the content as potentially spam, and down your ranking plummets. The moral of this story is that cutting corners when it comes to design and functionality only hurts you in the end, which is why having a custom product with original content matters most when it comes to visibility.
The Benefits of a Micro Site
Not only can a custom design boost your presence, but having a microsite that focuses on a specific aspect of your organization can generate more attention and direct it to your home page. Your web traffic can be streamlined by linking back to a parent page as well, potentially broadening the results of a person's search. In other words, it provides another channel that can redirect people searching for organizations with missions such as yours in your area back to you. Not only that, but it provides an opportunity to enhance your SEO practices by providing an additional opportunity to incorporate local keywords as well as link to your content. Learn how this practice can benefit your nonprofit by contacting us today.
Enhance Your Online Presence Today
Whether you are aiming to reach more people to join your cause or to help them out, or even if you are seeking a method for reaching more donors, a custom website is key. With original content, user- and mobile-friendliness, and organic SEO, your organization will rise in. the ranks on a SERP, garnering the visibility you seek. Contact MDPM Marketing for Nonprofits in Dallas, TX today by calling (214) 531-3006 to learn how we can help you.