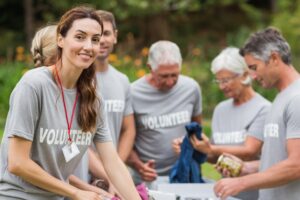 In the United States, nonprofit organizations serve as an important part of the economy. In fact, it is estimated that over $800 billion dollars is generated annually by these organizations, which is over 5% of our total GDP! Here at MDPM Marketing for Nonprofits, we understand the importance of this vital sector of American industry. This is why we want you to have a website that helps you to reach more supporters.
Whether you need more high-dollar donors or an influx of new volunteers, your website serves as an introduction for your nonprofit organization. If your current site is just not grabbing the attention of your viewers, think about whether the design is up to their standards. These days, your audience has discerning taste, and with an old or outdated website, they may get the wrong impression of who you are. Show your dedication to your cause with a beautiful new website or site refresh from our team!
Your Website May Be The First Introduction To Your Organization
When your supporters look you up online, there are a few places they may interact with your nonprofit organization. An ever-growing area of activity is your social media presence, but this is not the only way that they may try to reach you. If your current website is outdated or poorly designed, you may struggle to reach those valuable new supporters. This can make all the difference when it comes time to fundraise or plan for your next event.
Show them what you do and how you do it with a clean and elegant website that gives people the information that they need. In this digital age, you are competing not only with other organizations for your integral support, but also with our continuously shrinking attention span. With a website redesign, you can take a step forward in showing the legitimacy and value of your nonprofit.
Your Organization Needs A Dedicated Website, Separate From Your Business
If you own or operate a for-profit enterprise as well as a 501(c)(3) nonprofit, you might wonder if it is necessary for your organization to have its own website. Even if you currently have a page devoted to the nonprofit organization, having a separate site for this activity can help you in a few ways. After all, your audience for each of these is very different, so by giving each group of supporters a place to go can help them to find what they need in a simple and straightforward way!
Have An Outdated Nonprofit Website? Give Us A Call
If our current website just is not getting the job done, talk to our team of expert marketers about a site refresh or redesign. To schedule a free consultation, give us a call today at MDPM Marketing for Nonprofits in Dallas, TX today at (214) 531-3006.